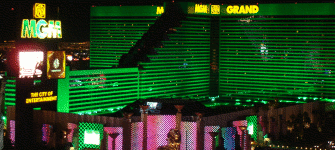 MGM Grand

The MGM is one huge casino! As soon as you walk in, you will be amazed with casino's splendor, and it has the Las Vegas vibe. We always have a great time playing the automated quarter horse racing game near the Lion Habitat. The casino floor is large and has plenty of gaming goodness for everyone.

Because of this The MGM Grand has become a favorite venue of many Poker tournaments whose players have always been thirsty for live Vegas gambling action.

The MGM Grand's Sports Book is a great place to make a wager, with plenty of seating, a nice High Roller area, good service all around, and the "Deli" close by.

We now stay in the Grand Tower, stay there if you can the rooms are larger and are a little nicer. But remember you won't spend much time in your rooms. All the rooms are nice and when it is busy the service for the rooms and casino floor can be kind of slow, it is a huge hotel so it deserves a break. Also try and get a room with a stip view.

The MGM Grand is tough to get comped if you are a low roller, so you will have to put down some cash to get a meal or a room. But if you make the right moves, by getting your slot club card and making sure the pit boss sees you betting big you will be fine.

The Lion Habitat is a free attraction that you can view from the casino floor or from inside the attraction, they even have a little peting area.

The MGM Grand has all the normal amenities, such as: ATM's, Wake up calls, Laundry, Housekeeping (Our rooms were always clean), Currency Exchange and a Starbucks. Don't forget about the Grand Spa and Health Club, Cristophe Salon, Wedding Chapel, Golf, Airport Check-in, Las Vegas Monorail and The Grand Pool Complex

KA Cirque du Soleil
KA tells the story of two separated twins and features acrobatic performances, Large puppets Multimedia and Martial Arts.

$69, $99, $125, and $150
MGM Grand ticket office open: 9:00am - 11:00pm daily
Tuesday - Saturday, 7:30pm and 10:30pm
Dark on Sundays and Mondays


La Feme
La Feme is a topless show that comes from Crazy Horse in Paris. The show is filled with great lighting an choreography. But after a while it is just another Casino's topless show.

Tickets - $59
MGM Grand ticket office open:
9:00am - 11:00pm daily

MGM Grand Garden Arena MGM Grand Garden Arena has 16,800 seats and is the host for all the major events like boxing, concerts and supercross.

The Hollywood Theatre
The Hollywood Theatre has 740 seats and is the host for more intimate shows such as Tom Jones, David Copperfield etc...
Hotel Name:
MGM Grand
www.mgmgrand.com

Address:
3799 Las Vegas Blvd. South
Las Vegas - NV - 89109


Phone:
(702) 891-7777

Reservations:
(877) 880-0880

Total Ratings:


42
Number of Rooms and Est. Price:
5005 Rooms
Number of Suites and Est. Price:

Buffet Prices (if applicable):

Number of Restaurants on Premises:

Casino Size (sq. ft.):
171,500 sq ft
Gaming Available:
SB - RB - S21 - B - MB - PG - PGP - CSP - LIR - B6 - K
Casino Marketing Phone Number: