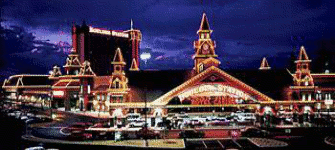 Boulder Station Hotel and Casino

Everything to provide the Ultimate Guest Experience under one roof! Las Vegas' friendliest Team, 5 award-winning Restaurants, 300 newly-remodeled comfortable Rooms, over 2,800 of the World's most popular Slot and Video Poker machines, Live Keno, 600-seat Bingo Parlor, Race and Sports Book action, beautiful Live Poker Room and exciting Live Gaming Tables in the center of all the Fun!

From top-notch musical entertainment in the Railhead and the Boulder Blues to live concert series, an 11-screen movie theater, five restaurants and KIDS QUEST, a fully-supervised child care facility, Boulder Station is a family entertainment mecca.
The Railhead is the center of Boulder Entertainment. Designed like a mini-showroom, it brings live acts nightly and is the place for concert-goers who like country, rock, jazz and blues.






Address:
4111 Boulder Highway
Las Vegas - NV - 89121


Phone:
(702) 432-7777

Reservations:
(800) 683-7777

Total Ratings:


3

Deprecated: Function mysql_numrows() is deprecated in /home/vegashipster/public_html/hotel_query.php on line 178

Deprecated: Function mysql_numrows() is deprecated in /home/vegashipster/public_html/hotel_query.php on line 180

Deprecated: Function mysql_numrows() is deprecated in /home/vegashipster/public_html/hotel_query.php on line 182

Deprecated: Function mysql_numrows() is deprecated in /home/vegashipster/public_html/hotel_query.php on line 184

Deprecated: Function mysql_numrows() is deprecated in /home/vegashipster/public_html/hotel_query.php on line 186






Number of Rooms and Est. Price:
300 - Price: $42-$109

Number of Suites and Est. Price:


Buffet Prices (if applicable):
B-$4.99-$8.99 (Sun) L-$6.99 D-$9.99-$10.99(Thu-Sat)-$15.99 (Fri)

Number of Restaurants on Premises:
13 (1 x 24 hrs)

Casino Size (sq. ft.):
89433 sq. ft.

Gaming Available:
SB - RB - S21 - MB - P - PGP - LIR - K - BG

Casino Marketing Phone Number:
(800) 915-3322