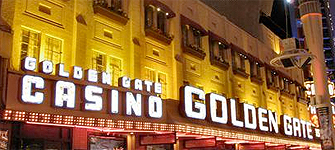 If you've ever wondered what Las Vegas was like in the Roaring 20's or the Rat Pack era, then experience Golden Gate Hotel & Casino—where Las Vegas started! This is definitely old-school Vegas and advertises itself as so. Don't forget Du-Par's, home of the best pancakes in the world.

Established in 1906, a family-owned boutique hotel-casino offers an intimate atmosphere that's reminiscent of times long-forgotten by corporate mega-resorts.







Address:
One Fremont Street
Las Vegas - NV - 89101


Phone:
(702) 385-1906

Reservations:
(800) 426-1906

Total Ratings:


6
Number of Rooms and Est. Price:
106 - Price: $29-$55
Number of Suites and Est. Price:

Buffet Prices (if applicable):

Number of Restaurants on Premises:
2 (2 x 24 hrs)
Casino Size (sq. ft.):
9090 sq. ft.
Gaming Available:
SB - RB - CSP - LIR
Casino Marketing Phone Number: