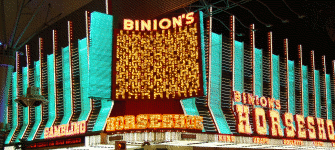 Binions Horseshoe Casino and Hotel. Old School Style. Downtown location. A lot of fun on weekends with the Freemont Street Experience, free shows live bands, need I say More? sure...

Binions is located in downtown Las Vegas. Downtown Vegas is worth a visit. This is one of the Original Las Vegas Casinos, the old strip. So you would have to expect older but clean rooms, low ceilings in the casino, and a more intimate environment. If your plan is to stay downtown because of the prices and ride up to the south end of the strip be warned, it is an expensive cab ride.

Steak House on 23rd floor offers panoramic view of Las Vegas.





Hotel Name:
Binions Horseshoe Casino and Hotel
www.Binions.com

Address:
128 E. Fremont Street
Las Vegas - NV - 89101


Phone:
(702) 382-1600

Reservations:
(800) 937-6537

Total Ratings:


6
Number of Rooms and Est. Price:
300 - Price: $35-$189
Number of Suites and Est. Price:
34 - Price: $55-$500
Buffet Prices (if applicable):
B-$5.95 L-$6.95 D-$9.95-$14.95 (Fri)
Number of Restaurants on Premises:
3 (1 x 24 hrs)
Casino Size (sq. ft.):
56929 sq. ft.
Gaming Available:
SB - RB - S21 - MB - P - LIR - PG - B6 - K - BG
Casino Marketing Phone Number:
(800) 237-6537