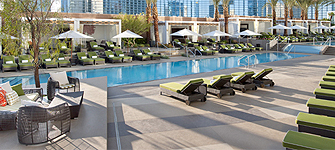 Mandarin Oriental is a company that prides itself on luxruy. The Mandarin Oriental is the first resort it has opened in Las Vegas. Standing at a towering 47 stories, this Las Vegas Hotel exudes luxury.

The check-in for the resort is on the 234d floor Sky Lobby with a great view of the Las Vegas Strip.

The Rooms are fantastic and themed in luxury, if there is a such a thing. The rooms include electronic controls for the drapes, lighting, a/c and entertainment systems. The room comes with a 42-inch flat-screen television and a second 15-inch flat-screen television in the bathroom, DVD player.

The Spa is 27,000 square feet, just thought you would like to know.






Address:
3752 S. Las Vegas Blvd
Las Vegas, NV 89109


Phone:


Reservations:
(702) 590-8888

Total Ratings:


27
Number of Rooms and Est. Price:
4,004
Number of Suites and Est. Price:

Buffet Prices (if applicable):

Number of Restaurants on Premises:

Casino Size (sq. ft.):

Gaming Available:

Casino Marketing Phone Number:
(702) 590-8888