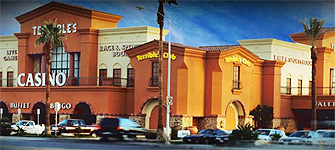 Terrible's is located just 1 mile off the strip and less than 2 miles from McCarran Int'l airport. It is a favorite of locals and visitors alike!

This is a budget friendly hotel. The rooms are clean and the staff is very nice. If you are not going to worry about frills and just want a place to lay down, this is your place.

The walls and ceilings are pretty thin, so be prepared to hear your neighbor. The new tower is nicer.

The hotel caters to anyone and sometimes you get that certain special someone, who you do not want to sit next to you but they still do..

There is a free shuttle from the airport, free parking, internet connection and no hidden resort fee.
Hotel Name:
Terribles Hotel and Casino
Terrible's Website

Address:
4100 Paradise Road
Las Vegas - NV - 89109


Phone:
(702) 733-7000

Reservations:
(800) 640-9777

Total Ratings:


4
Number of Rooms and Est. Price:
370 - Price: $29-$49
Number of Suites and Est. Price:

Buffet Prices (if applicable):
B: $4.99 L-$6.99 D-$9.99-$12.99 (Fri)
Number of Restaurants on Premises:
2 (1 x 24 hrs)
Casino Size (sq. ft.):
34457 sq. ft.
Gaming Available:
SB - RB - BG
Casino Marketing Phone Number: