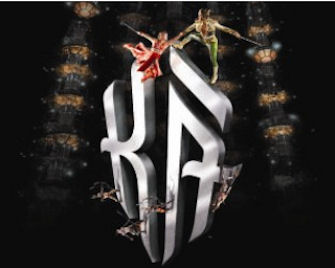 KA by Cirque du Soleil MGM Grand

KA combines acrobatics, martial arts, fireworks and puppets. The stage is one of the coolest we have ever seen. The stage lifts up, rotates and tilts. The performance is spot on and shouldn't be missed. This is one of our Top 3 Cirque du Soleil shows in Vegas.

KA is a theatrical show told through the physical language of Cirque du Soleil. KA is a bit darker than most Cirque du Soilel shows which gives it an alluring yet mysterious feel. The theater itself is dark and a bit menacing. The atmosphere is dark and the use of black and red give the show a unique Asian feel.

The story of KA is a classic tale of two twins, a brother and sister, who are sent on a treacherous journey and this time we are invited to come along. Black and white face painting and the use of martial arts techniques from all around the world give KA a style similar to that of Japanese Kabuki theater, which is actually where the show gets its name.

What makes this show particularly interesting to watch is the fact that for the first time the production takes on a cohesive and enthralling plot line which many Cirque shows lack. Donít be fooled however, there are still 80 athletes required for this performance. There is also plenty of state-of-the-art equipment built into the theater. The stage itself is built to twist and turn. It tilts so actors can climb up and down the stage. At one point, the stage is completely vertical and performers use arrows to swing and flip against their backdrop. What sets KA apart from most shows of its kind, is the way the story changes location. The twins travel through trees, mountains, and even snow storms.

KA is not the playful and whimsical Cirque show that you may be used to. It is rich with plot, characters, and a sense of pride and power that are not common among these types of performances. This haunting mixture of circus-like performers and enchanting main characters tell a story that will satisfy both seasoned theatergoers and newcomers alike.
Show Name:
KA by Cirque du Soleil

Show Room:
MGM Grand

Phone:
702-891-7777

Price:
$99, $125, 150

Times:
7:30p and 10:30p

Dark:
Sunday and Monday

Attire:


Total Ratings:


14