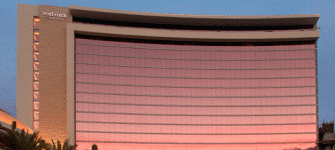 Red Rock is on of the Newest of the station casinos, this is a locals high-end casino. Not to worry everybody is welcome and so far we are hearing rave reviews about the customer service, friendliness, comps, hotel rooms and the food.

If you find your way over to the Red Rock Casino you will not be disappointed. Think Green Valley Ranch, another Station Casino, but more up to date.

The rooms are very well appointed with a lot of amenities. Go to this hotel if you wish to be pampered and want to relax. The staff is very friendly, and the spa is awesome.
Hotel Name:
Red Rock Casino Resort & Spa
Red Rock

Address:
11011 West Charleston Boulevard
Las Vegas - Nevada - 89135


Phone:
(702) 797-7625

Reservations:
(866) 767-7773

Total Ratings:


5
Number of Rooms and Est. Price:
435 - $120 - $250
Number of Suites and Est. Price:

Buffet Prices (if applicable):

Number of Restaurants on Premises:
9
Casino Size (sq. ft.):

Gaming Available:

Casino Marketing Phone Number: