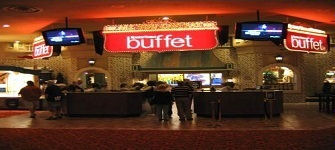 The Round Table Buffet at the Excalibur is a big buffet, but you end up seeing the same foods over and over. They split up the buffet into two sections and they server the same food in both sections. Albeit big the food quality is average. There is a lot of American comfort food. There is nothing too special about the buffet either from breakfast or dinner, but if you are staying there it is not a bad place to eat and the price is affordable.

$24.99 ALL-YOU-CAN-EAT ALL-DAY-LONG BUFFET
$24.99 gets you all-day access to the RoundTable buffet and the accompanying wristband gets you preferred line access! Blackout periods may apply. Wristbands available from the buffet cashier or at the main Excalibur box office.
Restaurant Name:
Round Table Buffet

Location:
Excalibur Hotel and Casino


Phone Number:
(877) 750-5464

Breakfast:
7am - 11am

Brunch:


Lunch:
11a - 4p

Dinner:
4pm - 10pm

Total Ratings:


2