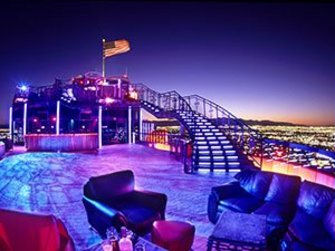 Located at a dizzying 51 floors high in the Masquerade Tower of the Rio Hotel, this is one Vegas hot spot you don't want to miss. There is plenty of party action and atmosphere.

The Drinks are overpriced but the view is nice. Ok... the View is spectacular in the indoor/outdoor, double-decker nightclub.

Entertainment
What else, VooDoo Doll go-go dancers!
Live bands, DJ's and the ever popular "flair bartenders". (We are making fun of the flair not the bartenders)

We need to warn you, you must dress-up, no sneakers, sandals, shorts etc...
Check out our "What to Wear in Vegas section"

Call 702-777-7800 for more information.