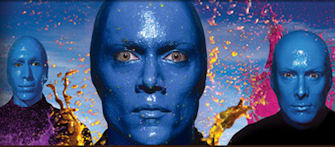 Blue Man Group

A Must see Vegas show. This production is a lot of fun to see. The Vegas show is different then the traveling production.

Located in The Venetian's brand-new 1760-seat Blue Man theatre built especially for the Blue Man Show.

The fun begins as soon as you get in the theatre. The theatre staff walks around handing out crepe paper and will help you wrap it around yourself. There is a message board that prompts you to for text messages on your phone. Being in the front row might get you wet, but there are complimentary ponchos on the back of your seat.

The Blue Men act as if they have never been to our world and perform accordingly. The show is very drum heavy, but not in a bad way it will get you moving. They combine the best of a theatre production with on the spot painting with Marshmallows and paintballs, great acting, music and overall production.

We have seen both the traveling show and the Vegas production and they differ enough to not feel bad about seeing both. The Venetians theatre was better suited for the show and it seemed more at home there.

Created by Matt Goldman, Phil Stanton and Chris Wink in New York in 1987. The Blue Man Group has shows in Boston, Chicago, New York and Las Vegas with over 60 Blue Men and continuously playing to sold-out audiences.
Show Name:
Blue Man Group

Show Room:
The Venetian

Phone:
800-258-3626

Price:
$71.50 - $93.50 - $121.00

Times:
M-SU,7:30 - SAT 7:30 & 10:30

Dark:


Attire:


Total Ratings:


6