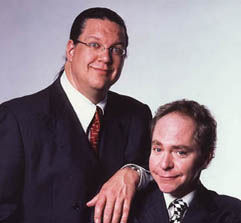 Penn and Teller

Located at the Rio All Suite Hotel Penn and Teller show us how the magic is really done, with their outrageous comedy.

The show is pretty edgy and they do tricks with knives, guns, cards and a fire eating showgirl.

Penn is a master with a deck of cards; in fact, he is amazing. I have seen him personally know how many cards are in a deck just by weight and feel. I have not come across anyone who has amazed me more in this area.

Stick around after the show, because Penn and Teller wait for you in the lobby it is a very open platform and have a great time; they are very approachable.