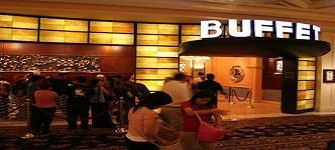 Buffet Bellagio
The Buffet Bellagio is a buffet of the highest quality and of the higher prices. It is more of a gourmet buffet. We tend to stop by for a late lunch and let it carry us into dinner. Some of the greatest desserts in Vegas reside here. We eat here as much as we can. The food is just prepared that well. It is not like other Buffets where it is all about the quantity, The Buffet at Bellagio truly has quality.

At the Bellagio Buffet they server Alaskan King Crab for dinner that are already split so you do not have to worry about cracking them. From shrimp to sushi ,all of the seafood is prepared perfectly.

The Prime Rib and Beef Wellington are some of the best in town. Again, the preparation of the food is perfect.

The Pricing is right in line for a buffet of this caliber.

Breakfast $16
Lunch $19.95
Dinner $29.95
Gourmet Dinner $36.95
Weekend Brunch $24.95
With Champagne $29.95
Children ages three and under are free.
Restaurant Name:
The Buffet Bellagio

Location:
Bellagio


Phone Number:
(702)-693-7223

Breakfast:
8:00a - 10:30a

Brunch:
Brunch Sat & Sun 8:00a - 3:30p

Lunch:
11:00a - 4:00p

Dinner:
4:00p - 11:00p, Gourmet Dinner Fri & Sat 4:30p - 1

Total Ratings:


51